I was sitting watching my son and his teammates from the Grande Prairie Comp Warriors football team play their yearly Orange & Black intersquad game. The game took place in the middle of the afternoon so there weren't a lot of people around, just me and one other dad to watch but the coaches made sure the game would be competitive, players dressed in their game uniforms, there was a draft to see who would play on what team and even former players were enlisted to be referees. There was friendly trash talk and alot of fun as these band of brothers played off against one another as they tuned up for the end of the season and the run to the Peace Bowl. When the smoke cleared team Orange was victorious and as players and coaches laughed and prepared to leave Legion Field, I shouted out "how about a team picture" you see I had the presents of mind (for once) to bring the camera and took a bunch of photos.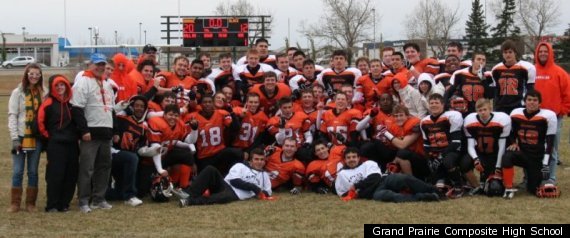 The next day I was back at Legion field to watch my youngest play in his Raiders bantam football game, as I walked the field during warm ups, one of the Raiders coach (a friend and former Warrior dad) came to me with tears in his eyes to tell me about what had happened the night previous, five young men from the Warriors had been struck while in the car they were in on the correction line with all but one killed and one in critical condition, literally just hours after I had taken that team photo. I remember the blood rushing out of my face and feeling light headed and initially not believing what I just heard, then my son and the other Warriors were called into school to hear the news about their teammates.
We'd learn later another young man, not alot older then our Fallen Warriors, was the one charged with the incident. The shock, anger, grief, emotion, love and generousity that followed was the most inspiring thing I had ever been part of. The way the community, the province and the football family across the country galvenized was truly inspiring.
Now that the trial and sentencing of the young man who made a fatal and tragic decision that night is done perhaps we can all begin to heal and move on. It won't be easy and for some it may never happen, there's been a lot of pain, alot of anger (just look at some of the debates and arguments on social media to prove that point) and alot of tears but ever broken hearts needed mending, it's here and now.
A day doesn't go by that our Fallen Warriors don't cross my mind and I would be lying if I didn't say that as the father of a Comp Warrior, a father of a son who was their friend and teammate...a father, that it scares me with the thought "that could have been my boy". I'm thankful for alot of things; to be a father, to be a Warrior dad and to be part of this community.
-Paul Ouellette or as I'm know in Warrior circles...Josh's dad.